All Aboard the SOUL Train
It is clear that we need to shift our mindset about stormwater in New Orleans.
So, what should we do moving forward? We need to keep as much water as possible out of our drainage system.
Here are some examples of how to do this.
1. PLANT TREES! Trees drink hundreds of gallons of stormwater daily, with Bald Cypress absorbing up to 880 gallons! The more trees are clustered, the more stormwater they can impact. In fact, can you imagine if we had had a healthy and dense urban forest last Saturday? We have room for one million trees in New Orleans. We could have absorbed hundreds of millions of gallons of water that instead flooded our streets.
2. REMOVE CONCRETE and impermeable surfaces so that water can soak back into the ground and stay out of the drains. The Urban Conservancy's Front Yard Initiative is a great resource for concrete removal.
3. STORE YOUR WATER. Water detention can take on many forms. One option is "harvesting" your roof water in a rain barrel and reusing it for watering plants. Or you can capture and detain it on your property in a rain garden or bioswale. Check out Green Light New Orleans and ReCharge NOLA for rain barrel resources. If you're interested in building a stormwater detention landscape, Evans and Lighter, Spackman, Mossop, Michaels, and Dana Brown and Associates are the local landscape architecture firms with extensive "green infrastructure" experience.
More Trees Means Less Flooding

Read Stephanie Bruno's Advocate article about SOUL and our strategy for reforesting New Orleans!
Call for Block Captains
If you want to see trees in your neighborhood, then consider becoming a block captain! Block captains are vital to shaping the reforestation of their neighborhoods. Being a block captain involves talking to neighbors and asking them to sign up for trees by signing a permit. We are offering a block captain training
Sign up to be a block captain and we'll contact you soon.
Email Scott with questions.
Advocacy & Policy
SOUL is very excited to announce that its recommendations were accepted into New Orleans' Master Plan. We are grateful to Cm. Cantrell's office for their guidance and support throughout this process. Explore our recommendations on SOUL's website.
Our next step is to propose changes to the Comprehensive Zoning Ordinance (CZO) regarding protecting valuable trees on private property and introducing heritage tree legislation.
Tree Tips by Tim • Don't Love Your Tree To Death
Remember- if you received one of our trees last year- don't prune yet. Young trees are already under a lot of stress and pruning too early can cause "sun scald." If you're itching to tend to your tree, restrict your pruning to dead branches, and keep 2-3″ of mulch around the base of your tree without touching its trunk. Don't overwater your tree during this rainy time. It's also time to loosen your support if you staked your tree. This helps this tree flex and develop its strength.
Tim Benton is a licensed arborist who practices in New Orleans. www.bentontreeservice.com & Facebook
Check out our Upcoming Events!
Our goal is to plant 600 large native trees this year!
Want a tree (for free)?
If you live in one of our partner communities- Mid-City, Broadmoor, or Algiers/Algiers Point, and want a tree, sign up here.
Want to volunteer and help plant trees?
Sign up here.
Our goal is to cluster trees in our partner communities. We prefer to plant twenty trees on one block than twenty trees on twenty blocks. Clustering allows the trees to more quickly impact stormwater, subsidence, shade and their other benefits.
Donate today so that we can plant native water-loving trees!
***
courtesy livingwithwater.com
How can we live with water in the coming decades? A professional team is developing a vision for a safer and more beautiful Greater New Orleans, one that is built upon sustainable water management principles and best practices. New Orleanians, having inhabited the delta for centuries, can once again embrace water to achieve improved safety, economic growth, and quality of life.
The Greater New Orleans Urban Water Plan is a resiliency planning study to develop sustainable strategies for managing the water resources of St. Bernard and the East Banks of Jefferson and Orleans Parishes. The project addresses three basic issues: flooding caused by heavy rainfall, subsidence caused by the pumping of stormwater, and wasted water assets.
***
courtesy The Atlantic CITY LAB
New Orleans Is Done Fighting Water
The city is using a big federal grant to filter and retain the stormwater it once banished.
One centerpiece of the Gentilly Resilience District will be creating the 25-acre Mirabeau Water Garden to filter stormwater while providing beautified space for recreation and education.(New Orleans Redevelopment Authority)
Unlike some other flood-prone, below-sea-level cities, New Orleans keeps its water hidden.
Whereas Amsterdam and Venice channel the seas through a dense network of canals dispersed throughout the city, New Orleans long ago resorted to fortifying its borders against the lakes, river, and swamps that surround it—pumping out whatever water got through. That was one reason why Hurricane Katrina hit the levees with such ferocity: the pent-up floodwaters got funneled down the man-made canals until they crashed against man-made barriers.
After decades of fighting the tide, the city now is changing course. Using a $141 million grant from the U.S. Department of Housing and Urban Development, New Orleans will radically alter the landscape of its Gentilly neighborhood to filter and retain stormwater, rather than banishing it, The Times-Picayune has reported. This approach has worked well in places like the Netherlands and Denmark, but success in New Orleans could signal a new era in how American coastal cities handle the water around them.
Turning a swamp into a home
Gentilly sits due north of the French Quarter, bordered by the spacious City Park to the west, the Inner Harbor Navigation Canal to the east, and Lake Pontchartrain to the north. It houses the University of New Orleans as well as Dillard University. Mostly, though, the district is made up of single-family homes spread out along a spacious grid of streets—not quite suburban, but far from dense. It also used to be a swamp.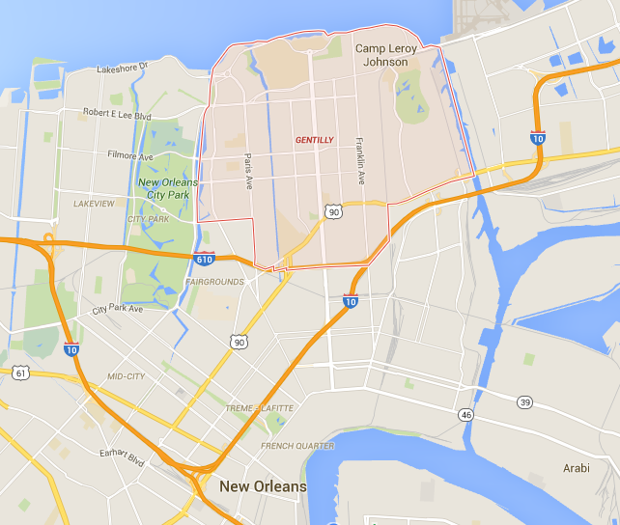 (Google Maps)
For most of New Orleans's history, homebuilders kept to the high ground for the simple reason that if you built homes in the swampy lowlands, they'd eventually get flooded. In the housing boom after World War II, though, developers grew less cautious about the risks of low topography. They filled in the wet land north of downtown and created the pleasant residential district of Gentilly.
With this claim staked, the city followed up with a series of fortifications to keep out the waters. These concrete barriers work pretty well at blocking river and lake water and most hurricanes, but they can't stop rainwater, says Mark Davis, director of Tulane's Institute on Water Resources Law and Policy. Instead, New Orleans relied on a vast system of pumps to keep rainwater from filling up its low-lying districts.
But years of pumping have dewatered the soil, causing the land to sink relative to the surrounding water and making the process of staying dry even more complicated. After the devastation of Katrina, which submerged Gentilly along with many other districts, the city decided to chart a new course. "What's being tried now are the ways we can store water so we don't have to continually buy bigger pumps and bigger canals," Davis says.
And now for something completely different
The Gentilly Resilience District proposes to retrofit the area with a series of interventions to filter and store rainwater in public land, while helping private homeowners protect their property from runoff. But the city wants these efforts to do more than manage water: they're designed to simultaneously strengthen the fabric of the community and generate economic opportunities. That caught the attention of the folks at HUD doling out money left over from Hurricane Sandy relief in the National Disaster Resilience Competition.
"It's huge—it's really a down-payment on the future of the city," says New Orleans Chief Resilience Officer Jeff Hebert. And not just huge for Gentilly: "The way we designed our submission was to concentrate these efforts in one area of the city in order to prove its viability and then transfer it to other parts of the city."
The Gentilly proposal developed out of a resilience strategy Hebert's office published in 2015, which in turn drew heavily on the 2013 Greater New Orleans Urban Water Plan. That document, profiled in detail by The Atlantic, established the philosophy of working with water instead of hiding it and banishing it from the city. (They even nailed down the URL livingwithwater.com before some other city got to it.)
One flagship project that made it from the water plan into the HUD grant is the Mirabeau Water Garden, a 25-acre site that will be turned into a natural filtration system capable of absorbing 1.23 million cubic feet of stormwater from the surrounding streets. Hebert says the HUD money will help the city design this park to be beautiful and educational, beyond its flood-mitigation function. The Resilience District will also turn portions of the canals into public waterfronts by demolishing the drab concrete walls that have long hidden them from view.
The largest item in the budget will be more than $90 million for a network of interlocking canals and water-absorbing parks in the neutral grounds—the wide medians that run through the larger boulevards of New Orleans. The goal is to make the public lands more attractive for recreation while expanding the city's capacity to absorb stormwater.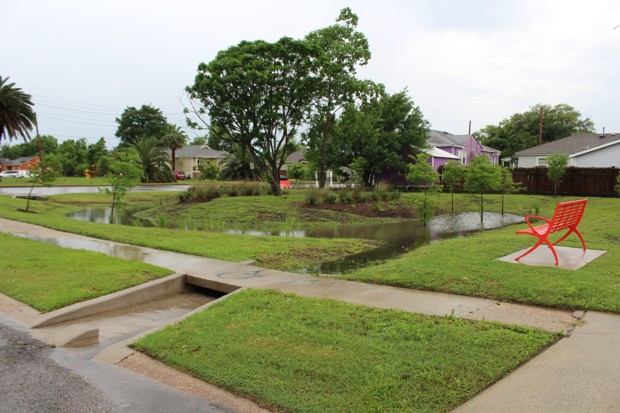 This rain garden in the Gentilly neighborhood of Filmore Gardens was finished in 2014. It collects rainwater and drains it through native Louisiana plants, while serving the neighborhood as a mini park. (New Orleans Redevelopment Authority)
Since the transformation has to occur at all scales, as Hebert says, the Resilience District will support a series of neighborhood-level street overhauls and will use $7 million to support low- and moderate-income homeowners in flood-proofing their property with landscaping and elevating the house.
David Waggonner, the architect who spearheaded the urban water plan, hopes the water-centric installations will catalyze the growth of neighborhood centers in the generally suburban Gentilly area, which in turn will drive more revenue for the city. "Cities can't exist without revenue," Waggonner tells CityLab. "Part of it is to get more taxpayers, more utility users, more density in this key area of the city, and to use the physical changes to spur that."
A sea change
The "living with water" philosophy is poised to guide development in Gentilly on a scale not yet seen in the U.S. It's already practiced expertly by the Dutch water managers in Amsterdam and Rotterdam, who advised New Orleans in crafting the water plan. Copenhagen adopted a "green and blue approach" to adapt to climate change without relying on more sewage and pumping.
On the American side the idea is still gaining traction. Philadelphia committed to a $2.5 billion, 25-year green infrastructure stormwater treatment plan. Seattle wants to absorb another 700 million gallons of stormwater runoff by 2025. Hoboken won a $230 million HUD grant after Superstorm Sandy for a citywide system designed, in part, to store and discharge floodwater. Hebert says the Gentilly resilience work will be completed between 2019 and 2022, making it the first large-scale urban transformation of its kind in an American city.
It's too early to know how it will turn out. "Is it possible that foolishness and corruption will arise here?" Davis asks. "Yes, just like any public works project. We have to watch for that." And, Davis notes, with the installation of all these bodies of water the city will have to grapple with a new source of mosquito-born illnesses and even drowning risks. But if the Gentilly project pulls off a success, the city that was once the textbook case for storm-based calamity could write the textbook on how to avert the next flood.
"Thought you would like to know that our front yard did beautifully yesterday!" This message brought to you by the owners of the Broadmoor house that used to get 8″ in their front yard after a hard rain who participated in the #FrontYardInitiative.
The driveway on the left and bioswale on the right now capture and slow water from entering the city's system. Photo below shows what used to happen after a one-hour 2″ rain (Broadmoor got 5.49″ in a matter of hours on Aug 5.) Evans + Lighter Landscape Architecture Quality Sitework Materials Truegrid Water Collaborative of Greater New Orleans. Details about the program in the link:
http://www.urbanconservancy.org/project/fyi/
The Front Yard Initiative is the Urban Conservancy's response to excessive yard paving. Rampant front yard paving is a community issue that has broad and significant effects on the city of New Orleans from stormwater to safety.
Stormwater management in New Orleans has been characterized by regularly overwhelmed drainage systems, excessive paving and pumping that has depleted groundwater levels and led to a sinking city, and urban water assets being wasted while hidden behind walls, underground, or pumped into the river and lake. All of these issues and the failure of traditional infrastructure (levees, pipes and pumps) to protect the city from Hurricane Katrina, continuous flooding, and subsidence has led to a shift in mindset regarding the most effective and thoughtful way to manage stormwater in South Louisiana. It is clear that the single-minded approach of rushing stromwater over pavement, into pipes and pumping it out of the city needs to be reevaluated.
***
While certainly not a solution to flooding, rain barrels reduce the amount of runoff to the City's pumps and can reduce your water bill if you are an avid gardener and use a lot of water in your garden. If you connect rain barrels to the downspouts they will be more effective. However, I have one on a stand that still provides a lot of water for the garden. More about rain barrels in the link:
Learn more about rain barrels: CLICK HERE
Also in the photo you will notice open containers that I use to collect rainwater. If you use those, be sure to use the water in them relatively quickly so that you don't help breed mosquitos. After every rain, remove any standing water from around your home. More about mosquitos in the link: http://fsjna.org/2017/08/remove-standing-water/
New Orleans has a Mosquito Control Board. Learn more in the link below:
http://www.nola.gov/RESIDENTS/Mosquito-Termite-and-Rodent-Control-Board/
***
Planting a tree on or near your property can reduce flooding!
Trees in our community provide many services beyond the inherent beauty they lend to streets and properties. One of the most overlooked and underappreciated is their ability to reduce the volume of water rushing through gutters and pipes following a storm. This means less investment in expensive infrastructure and – importantly – cleaner water when the runoff reaches rivers, lakes, and bayous.
Details in the link:
http://www.northlandnemo.org/images/800TreeCityUSABulletin_55.pdf
PLANT A TREE AND HELP REDUCE CRIME!
Click here for the original article.
Click here for a PDF from the LSU Ag Center on why you should plant trees
The city of Baltimore's high crime rate inspired a gritty TV drama. But a new study (Tinyurl.com/TreeCrimeReport) by the University of Vermont's Transportation Research Center, in Burlington, found that a 10 percent increase in trees in a given area led to a 12 percent decrease in crime. "It's really pretty striking how strong this relationship is," says Austin Troy, lead author of the study, published in the journal Landscape and Urban Planning.
Researchers examined the correlation in and around Baltimore using aggregated crime data and combining it with high-resolution satellite images to conduct the analysis. The working hypothesis is that because people enjoy spending time in pleasant outdoor spaces, there are more observers present to hinder criminal activity. Also, a well-maintained landscape seems to send a message that someone may be watching.
To avoid culture bias, the study considered many socioeconomic factors, including housing, age, income and race of residents, as well as variables such as rural versus city setting and population density. The findings should prove helpful to urban planners.
Fringe trees are excellent anywhere that a very small tree is needed, such as near a patio, in small yards, or under power lines. Like many white-flowered plants, they look especially nice planted in front of a dark backdrop. They can be used as individual specimens, in groups, in mixed shrub borders or in natural gardens. They are well suited to urban plantings due to pollution tolerance and adaptability to varied soils. Fringetrees are not salt tolerant.
Although fringetrees are adaptable and will grow in most soil types, they prefer moist, deep, well-drained, acidic soils. They grow well in full sun to partial shade. Leaf appearance is best in some shade, but flowering is heaviest in full sun. The ideal compromise would be sun through most of the day, but shade during hot afternoon hours. Fringetrees have low maintenance needs once established.
Due to a naturally strong branch structure fringetrees rarely need pruning. Pruning while young may be desirable if a single stem tree form is preferred. Fringetrees do not transplant well so take care to choose an appropriate permanent location and use proper planting methods. Plant it high, it won't die!
Plant it Low, It Won't Grow | Plant it High, It Won't Die
The most important consideration in planting trees and shrubs is the planting depth. Don't plant too deep!
Plant all trees and shrubs about one inch above the surface of the existing soil. No dirt should be placed on top of the existing roots and nursery soil so as to not smother the root system. Mulch well, leaving a two inch gap around the caliper(s) of the plant.
For the most efficient use of water, construct an earthen berm two to three inches high around the drip zone area of the plant after planting. Water in well after planting!
TREES TO PLANT IN NEW ORLEANS
***
ONLY WATER GOES INTO CATCH BASINS
Please remind your friends and neighbors to make sure their yard maintenance contractors are not blowing stuff into the storm drains.
· Sec. 66-287.1. – Use of leaf blowers to transfer or direct debris to public drains prohibited.
(1)
Definitions.
Leaf blower. A mechanical, battery-operated or gasoline-powered device which projects pressurized air forward to cause movement of leaves, grass or other debris commonly associated with grass cutting, lawn care, gardening or yard maintenance activities.
Public drain. Includes catch basins or gutters located parallel to public rights-of-way, open segments of city subsurface drainage conduits, flood control and water path canals or drains located on public property and incorporated into the public infrastructure for wastewater management or scipening.
(2)
Use of leaf blower to impede or restrict drainage or water flow prohibited. Use of leaf blower for private or commercial use in any manner which causes or results in the transfer, movement or directing of grass, leaves, yard debris, debris derived from yard maintenance, lawn care or any activities whereby debris is accumulated and projected to public drains or results in impeded water flow of public drains or restricts the public designated purpose of such drains is prohibited by law. Violators shall be subject to citation or administrative adjudication by duly authorized code enforcement officers or duly authorized law enforcement officers.
(M.C.S, Ord. No. 21912, § 1, 4-7-05)
***
Thanks to Robert Thompson for sending this in…
Article courtesy Forester Magazines
http://foresternetwork.com/erosion-control-magazine/ec-soil/ec-erosion-control/protecting-storm-drain-inlets/
Everybody loves a party, and nobody loves a good time more than New Orleans, particularly during Mardi Gras when nearly one and a half million visitors flood the city, more than tripling its usual population. But after any good time, there is a lot to clean up from the festivities, and street trash is an overwhelming burden. This year the city had help, thanks to the Wing-Gate automatic retractable screen (ARS) stormwater inlet protection devices from California-based United Storm Water Inc. and United Pumping Services.
Company stormwater sales manager Terry Flury explains how the specialized protection devices help municipalities cope with the everyday headache of trapping trash and protecting stormwater. "Although we originated in southern California, compliance with increasingly stringent policies of municipal separate stormwater sewer systems [MS4s] across the country is helping drive our popularity. Our full-capture devices are all stainless steel and have a five-millimeter perforated screen that prevents items as small as a cigarette butt from entering storm drains.
"We also have stormwater filter DrainPacs that filter out hydrocarbons, and we can customize the filter media to address whatever the customer needs. For example, if you're concerned about heavy metals, oils, or fertilizer, the filter media could be Perlite, activated carbon, or whatever you might need to address the problem."
And customizing the product is all in a day's work, even when it's a rush to meet the deadline for arguably the country's biggest, or at least most enthusiastic, outdoor party.
"We recently did a Wing-Gate screen install on Bourbon Street in New Orleans," explains Flury, "and we had to come up with a special design. Our standard ARS screens are configured completely different and could not accommodate the New Orleans street grate models, which are very unusual and strange looking, made around 1900, and all cast iron with multi-phased support legs."
Flury says the city wanted something in place by Mardi Gras 2016, so the design team was challenged to come up with a new configuration.
"We did a pilot test of 30 basins and came up with a Wing-Gate design that was completely different. This went through [the city's] approval process and we had the screens in place well before Mardi Gras."
City officials were pleased, he says. "We're now working on a plan to eventually do the whole city."
The Wing-Gate devices, he explains, are automatic retractable screens that respond to the incoming water, both retaining trash and allowing water to flow. The ARS fits right into the curb openings; in dry months the screen prevents trash from entering the catch basins, and during rain events it opens after water reaches about 40% of curb height. Connector screens then act as a second line of defense for debris, protecting the outlet pipes.
Sometimes meeting client needs has to address more than making a new size or configuration. Flury describes how the bright stainless steel of the ARS was virtually a magnet for scrap collectors in some urban areas. "So for customers who need it, what we've done is simply finish the stainless in flat black paint with a powder coating, which replicates plastic and draws far less attention and protects their investment."
Since the company actually comprises two entities—United Stormwater and United Pumping—Flury says they can manage not only client stormwater needs, but also hazardous waste.
"If we run into a hazardous waste issue, we can act in a remedial capacity. For example, if we run into an oil spill, oil in storm drains, our crews will come and dam up the area and either broom off or vacuum the oil. We really have the best of both worlds when it comes to managing and protecting our water."
***
article below by R. Stephanie Bruno and courtesy
The Advocate
Susannah Burley was dealing with an insurance adjuster when I caught up with her to talk about green infrastructure in the aftermath of the most recent unexpected New Orleans flood.
"I live in the Fairgrounds Triangle neighborhood, and we got water inside of our rental property and both cars," she lamented. "My husband's car will be OK, but the adjuster wants to total mine."
I met Burley a couple of years ago when she led the education program at Parkway Partners and I took the "Green Keepers" classes. Burley became so committed to the idea of using rain gardens, retention ponds and appropriate street plantings to reduce flooding that she left Parkway Partners and founded a new nonprofit, SOUL NOLA, in June 2016.
"It's an acronym for Sustaining Our Urban Landscape, and the idea is to work neighborhood by neighborhood to help residents form a strategic plan to reduce dramatically the amount of stormwater that goes into catch basins and the drainage system," said Burley, who also holds a master's degree in landscape architecture from LSU.
"We had a lesson last weekend in the limits of what drainage systems can do … and we know it won't stop flooding in the future. We need green infrastructure."
The catastrophic flooding of last weekend appears to be the result of problems with the pumps and an abnormally large volume of rain in a short period of time. Yet Burley said that a robust approach to creating "green infrastructure" citywide might have reduced the flooding by keeping rain water out of the streets.
If the terms "green" and "infrastructure" don't seem like they belong together, Burley says it's because the idea is new to most cities.
Before Hurricane Katrina, the goal was to ensure that rainwater reached the drainage system as quickly as possible so it could be pumped to Lake Pontchartrain. Thinking has changed.
Now the idea is to deal with rainwater where it falls and to find ways to retain it or slow its path to the drainage system so the system won't be overwhelmed and so rain can seep into the ground and replenish groundwater, important to reducing subsidence. Rain barrels, rain gardens and the like are some obvious ways to do it.
"At City Hall Tuesday, we learned what it would take to completely rebuild the drainage system to handle more water — it's not going to happen," Burley said, referring to the public meeting held to discuss the flood.
"So green infrastructure has to become part of the city's plan for the future. As long as we pin our hopes on the drainage system and ignore the benefits of using green infrastructure to handle stormwater, we're going to flood over and over again."
SOUL is working with neighborhood leaders in Mid-City and Algiers and is in the planning phases with Broadmoor on a project aimed at reforesting the city, one neighborhood at a time.
"There are so many different options for green infrastructure, but right now we are focusing on tree planting. Did you know that New Orleans is the most deforested city in the United States?" Burley asked. "Estimates are that New Orleans can accommodate a million more trees than we currently have — a million! Though our 'Ya Dig?' program, we planted 190 trees last year and will plant 600 this year. Once the neighborhoods we are working with are reforested, we'll expand to more neighborhoods."
Burley says trees are critical to helping manage storm water because they drink it up, thereby keeping it out of the vulnerable storm water drainage system. The bigger the tree, the greater the water storage capacity, she said.
Some of the thirstiest include Sweetbay magnolia, pond and bald cypress, and red maples.
A map on SOUL's website shows the locations of trees planted to date. Every time volunteers and neighbors sink another one into the ground, its location is plotted on the map.
Click on a tree icon and see the address of the property where the tree was installed, the tree type and the container size. SOUL monitors tree health and condition after planting, but it is up to the residents and neighbors to keep the tree sufficiently watered the first year.
Live oaks, sweet bay and Little Gem magnolias, Drummond red maples, native fringe trees and Savannah hollies are a few of the tree types that appear on the map. Larger trees (live oaks) have been planted on neutral grounds and smaller trees (small magnolias, for example) on residential properties at the owner's request.
Burley said, "We need to stop thinking of trees and greenery as merely ornamental and think of them for what they are — our front-line defense against flooding."
***
below from waterwisenola.org
DIY Guide to Simple Rainwater Harvesting
Stormwater Compendium
Compendium of Urban Water Management Developments in Southeast;
Stormwater Compendium Site Map – New Orleans
Map of Urban Water developments in New Orleans
Joy of Water Cookbook
Booklet with information on how to install stormwater management on your lot
HCP water management fact sheet
Neighborhood Green Infrastructure Presentation
***
American Red Cross
504-620-3105
The Red Cross continues to work closely with local officials and partners to provide support to those affected by flooding in New Orleans this past weekend. Currently, the Red Cross is coordinating with local government to assist with damage assessment, as well as providing cleaning kits and recovery planning support to affected individuals and families. Contact the American Red Cross at 504-620-3105.
Cajun Army
www.thecajunarmy.com


If you need assistance with cleanup, sign up on the website or call Windy at 504-982-6333.
NOLA Tree Project
504-415-8434
connie@nolatreeproject.org
NOLA Tree Project can coordinate volunteers, tools, and cleaning supplies to help with cleanup activities. Contact them for volunteer opportunities or to request assistance.
Rebuilding Together New Orleans
504-581-7032
Rebuilding Together New Orleans, a program of the PRC, helps homeowners with critical home repair services by utilizing volunteers. If your home received damage and you need help, contact the intake department at 504-581-7032. If you want to help, contact Volunteer Manager Kat at 504-636-3075 or kschweitzer@prcno.org.
SBP
SBP can help homeowners whose homes were impacted by the flooding. Volunteers can assist with gutting and mold remediation. Contact Judy at JMartens@SBPUSA.org for volunteer opportunities. Homeowners in need of assistance should contact the client services department at 504-644-4639. SBP provides free resources (mold remediation, basic insurance guide, avoiding contractor fraud) for residents affected by disasters. These guides can all be accessed and downloaded from http://sbpusa.org/start-here/

.
Southeast Louisiana Legal Services
504-529-1000 x223
Southeast Louisiana Legal Services can provide legal assistance to tenants who are being evicted or who are being asked to pay for repairs by their landlords due to flooding. Go to their office at 1010 Commons Monday, Wednesday or Friday from 9-3 and bring proof of income, lease, and any other important documents.
If your organization is accepting volunteers or offering services for residents affected by flooding and would like to be listed here, email lamellem@nola.gov.
Clean up Safely
NOLA Ready guide to cleaning up after safely

Prevent Mold Growth
Clean wet or moldy surfaces with bleach. See the guide on the following page for how to safely clean with bleach.
Use fans to dry wet building materials, carpets, and furniture.
Throw away anything that you can't clean or dry quickly.
If mold growth is large, contact a licensed mold removal professional.
Prevent Mosquito Breeding
Remove trash and clutter like old tires, buckets, and tarps.
Empty standing water from containers like pet dishes, children's toys, and flowerpots.
Keep water fresh in containers like bird baths and kiddie pools.
Clean gutters and catch basins.
Call 311 to report illegal dumping, abandoned swimming pools, and water leaks.
Organize Debris for Sanitation Pickup
Sanitation collection will occur as scheduled. For properties eligible for collection by the City:
During the 2nd collection this week, the Sanitation Department will pick up bulky waste including debris, carpeting and other large items. Residents are encouraged to inform 311 of bulky waste pickup needs.
Tree limbs, branches and carpeting must be cut in four feet (or less) lengths and bundled. Tree limbs cannot be more than 12 inches in diameter.
Leaves should be bagged and the bags secured.
Resources for Small Businesses Affected by Flooding
Contact the Office of Economic Development
The Mayor's Office of Economic Development is currently conducting preliminary damage assessments of businesses affected by Saturday's flooding. If your business was damaged, contact Economic Development at (504) 658-4200.
View the New Orleans Building Hardening Guide
The City of New Orleans Office of Resilience & Sustainability and NOLA Ready have put together a guide on how to protect your business from high winds, flooding, fire, winter weather, and hail. These techniques range from very minor, inexpensive retrofits which you might do by yourself to far more complicated measures which require the assistance of a licensed professional.
View the New Orleans Building Hardening Guide

.
File a Claim for Flood Damage to Your Home or Business
Read more on how to file a claim from FEMA

.
Start the Claims Process by Contacting Your Insurer
After experiencing a flood, contact your agent or insurance company to file a claim. Make sure you have the following information handy:
The name of your insurance company
Your policy number
A telephone and/or email address where you can be reached at all times
An adjuster should contact you within a few days of filing your claim. If you do not hear from an adjuster, you can contact your insurance agent or company again.
Document the Damage
Separate damaged from undamaged property. Your adjuster will need evidence of the damage to your home and possessions to prepare your repair estimate.
Take photographs of all of the damaged property, including discarded objects, structural damage, and standing floodwater levels.
Make a list of damaged or lost items and include their date of purchase, value, and receipts, if possible.
Officials may require disposal of damaged items so, if possible, place flooded items outside of the home.
Complete a Proof of Loss to Support Your Claim
Your adjuster will assist you in preparing a Proof of Loss (which is your sworn statement of the amount you are claiming including necessary supporting documentation) for your official claim for damages. A Proof of Loss can be many things, but must contain the specific details set forth in the Standard Flood Insurance Policy. You'll need to file your Proof of Loss with your insurance company within 60 days of the flood. This document substantiates the insurance claim and is required before the National Flood Insurance Program (NFIP) or insurance company can make payment.
You'll receive your claim payment after you and the insurer agree on the amount of damages and the insurer has your complete, accurate, and signed Proof of Loss. If major catastrophic flooding occurs, it may take longer to process claims and make payments because of the sheer number of claims submitted.
File a Claim for Flood Damage to Your Vehicle
Contact your car insurance company
Have your policy number and contact information ready.
Flood Repair Permits
Permits directly related to flood damage resulting from the August 5, 2017 flood event will have all associated permitting fees waived. Come to the One Stop Shop prepared with all of the documents that you need to obtain your permit in a single visit. If your building did not experience structural damage, but you still need to repair portions like floors, drywall, cabinetry, and electrical outlets, please click here to learn about the 4 things you will need to get your permit.

All Aboard the SOUL Train
Check out more about Sustaining Our Urban Landscape in the link:
https://soulnola.org/about/
Short URL: http://katrinafilm.com/public/wordpress/?p=33273